Bookshelf
The books I've been reading and what I think about them.
books I've been reading and what i think about them
(very) brief book reviews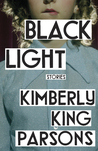 Black Light
by
Kimberly King Parsons
I love short story collections like this: weird and off-beat but beautifully and painfully written. The characters are, for the most part, unlikable, but I think that's the point. After all, we are all unlikable to some extent.
These are stories of mothers and daughters, childhood friendships, teenage relationships, and the intoxicating hope and disappointment embedded in each one. Everyone is trying their best and giving up at the same time; living and dying, rebelling and awakening. Each story illuminates the dark side of humanity, but in a way that elicits compassion -- as if these sorry children, teenagers, and parents can't help it.
A mashup of grief and celebration and inescapable discomfort, this collection tells the story of what it means to be human. It's the cry for help that we all need, to escape what traps us. What a terrific, real picture of humanness.
View all my reviews
Notes from a Young Black Chef
by
Kwame Onwuachi
My rating:
4 of 5 stars
A badass tribute to food, culture, and not apologizing for who you are. In this striking memoir, Chef Kwame tells his life story through the food of south Louisiana, Nigeria, the Bronx, and Jamaica. He takes full responsibility for the successes and failures in his career, all while defining and defending who he is and what he stands for.
View all my reviews
The Other Americans
by
Laila Lalami
My rating:
5 of 5 stars
Beautiful and heartbreaking. A hard look at the different perspectives that make up human experiences in America. Similar structure to THERE THERE by Tommy Orange. Good for readers of immigrant experiences and small town/family stories, and appreciators of how grief leads to mercy and love.
View all my reviews
Warlight
by
Michael Ondaatje
My rating:
5 of 5 stars
If you don't like literary novels, this book isn't for you. If you do, you may find yourself staring at the wall when it's over, pleasantly tormented by perfection. It's a slow burn, a story that's most gripping when it's over. I finished and immediately wanted to read it all over again. The writing is exquisite. I am undone.
View all my reviews